Inpro in the Polish Developers' Union (PZFD)
Inpro SA was made a member of the PZFD, a organisation with more than 100 members, nearly 40% of all developers on the Polish real estate.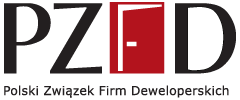 Through its activity, the PZFD attempts to build partner relations between developers and the market and takes care of the safe and professional apartment purchase procedure. This organisation embraces reliable and credible developers who not only adhere to the Good Practice Code, but are also aware of the need to develop an open and professional dialogue with customers. PZFD members lay emphasis on the quality of such contacts and of apartments and residential estates offered to the customers. The Board of PZFD held that Inpro meets all the Union's requirements.
"Membership in the Union is a great joy for us. This is not only the confirmation of the company's position and credibility, but also an opportunity for taking an active part in creating an organisation contributing to the development of the entire property development market in Poland. We trust that Inpro will be able to offer its knowledge and experience to the other members of the Union" - said Rafał Zdebski, Sales Director of Inpro S.A.